Unable to connect to wallet RPC service: RPC call did not return 200: HTTP error: 0 - JSON Response: []
Our Pools Mainpage: www.suprnova.cc. Our Twitter: twitter.com/SuprnovaPools Be sure to follow us for updates and news !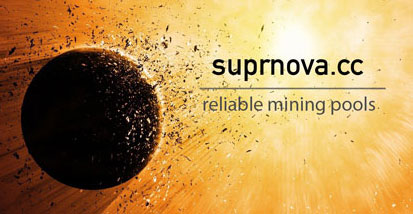 This is a
NGv2
Pool - you can use your Suprnova unified login here ! (All Suprnova Pools with this logo share the same login and worker information - no need to re-set everything !)
Suprnova's MNXCoin Pool // Algo: Mars // Live !
No Dev-Fee, no pool fee
Use this miner for about 10 times faster miningspeed: Optiminer MNX
stratum+tcp://mnx.suprnova.cc:7077 SSL: 7078
| Rank | Donor | User Name | Shares |
| --- | --- | --- | --- |
| 1 | | anonymous | 85,487 |
| 2 | | y5TSUazyGKtm8vL6 | 1,763 |
| Rank | Donor | User Name | KH/s | MNX/Day |
| --- | --- | --- | --- | --- |
Pool Hash Rate

0.000

MSol/s
Pool Efficiency
0%
Current Active Workers
0
Current Difficulty

1.00000000

Est. Next Difficulty
0.00000001 (Change in 1 Blocks)
Est. Avg. Time per Round (Network)
1193046 hours 28 minutes 16 seconds
Est. Avg. Time per Round (Pool)
zero seconds
Est. Shares this Round
268,435,456 (done: 0%)
Next Network Block
1 (Current: 0)
Last Block Found
562,227
Time Since Last Block
18297 hours 29 seconds
| Block | Finder | Time | Actual Shares |
| --- | --- | --- | --- |
| 562227 | y5TSUazyGKtm8vL6 | 02/22/2021 16:41:20 | 46,629 |
| 562226 | anonymous | 02/22/2021 16:38:23 | 1,580,149 |
| 562225 | anonymous | 02/22/2021 08:22:45 | 1,368,310 |
| 562224 | anonymous | 02/22/2021 08:08:21 | 242,244 |
| 562223 | anonymous | 02/22/2021 08:03:57 | 284,447 |
| 562222 | anonymous | 02/22/2021 07:59:59 | 978,683 |
| 562221 | anonymous | 02/22/2021 07:51:46 | 268,698 |
| 562220 | anonymous | 02/22/2021 07:49:06 | 271,386 |
| 562219 | anonymous | 02/22/2021 07:46:27 | 233,746 |
| 562218 | y5TSUazyGKtm8vL6 | 02/22/2021 07:42:08 | 302,270 |